Here is the next diecast figure from Hot Toys to be announced, It looks pretty cool and there are plenty of accessories. I just hope that because it is diecast that the have managed to only have one switch to do the light up feature.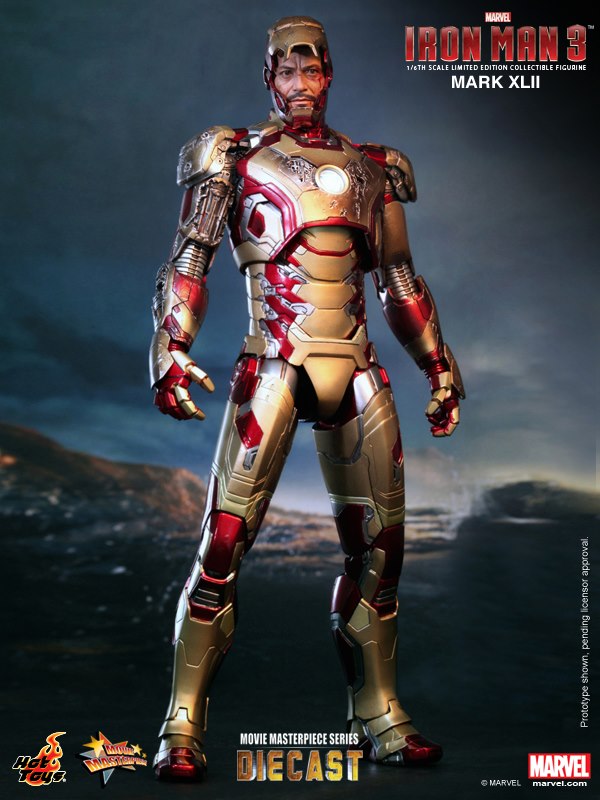 Marvel's Iron Man 3 is coming to town this month and Hot Toys is proud to present the 1/6th scale Mark XLII Limited Edition Collectible Figurine from the Iron Man 3 movie for the MMS Diecast Series. This is only the second collectible to be introduced in our premium Diecast Series.
Leading the MMS Diecast Series is the iconic Iron Man 3 Series, in which the collectible figures are made of diecast material, specially designed to look more closely to the realistic Iron Man characters in the movie. The MMS Diecast Series will bring fans to the next level of authenticity, focusing on the materials, fine details and engineering of the Iron Man collectible figures, while some of the parts can be shared between our MMS and Diorama Series for displaying together in 1/6th scale. More collectibles from Iron Man 3 will be coming from the MMS Diecast Series!
The movie-accurate Mark XLII Collectible Figurine is highly detailed and fully deployed, specially crafted based on the image of Robert Downey Jr. as Mark XLII in the movie, highlighting the highly detailed head sculpt, metallic red, golden and silver well equipped armor, light-up functions.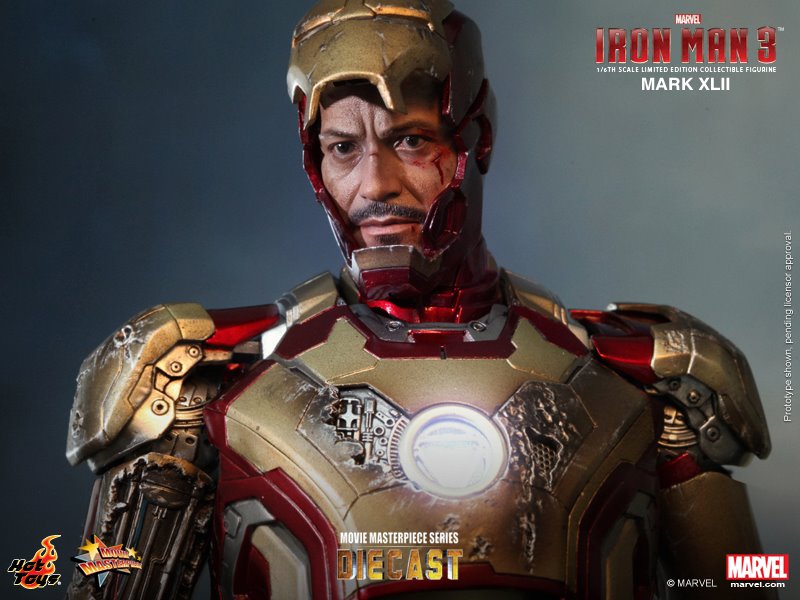 The Iron Man Mark XLII Sixth Scale Figure features:
Authentic and detailed fully realized likeness of Mark XLII in the movie
Battle damaged head sculpt with helmet, featuring authentic likeness of Robert Downey Jr. as Mark XLII
Alternate helmeted head with light-up function
Approximately 30 cm tall
Over 36 points of articulation
Special features on armor:
LED-lighted eyes and circle-shaped RT on chest (white light, battery operated)
One (1) interchangeable battle damaged mask
One (1) pair of damaged shoulder armor
One (1) chest armor
One (1) damaged chest armor
One (1) damaged biceps armor
One (1) pair of damaged forearm armor
Three (3) pairs of interchangeable palms including:
One (1) pair with improved articulation, movable fingers and light-up repulsors (white light, battery operated)
One (1) pair of forceful fists
One (1) pair of battle palms with light-up repulsor (white light, battery operated)
Improved articulation on waist armor which allows for flexible movement
Fully deployed air flaps at back of the armor
Metallic red, gold and silver colored painting on armor
Batteries Included for Figure (Button Cell), Batteries NOT included for Figure Stand (Two AA Batteries Required)